Mouse Graphisoft®
Heat map
Visualization of the user's interest
Read the movement of the line-of-sight with the mouse graphics heat map
Mouse photography is the ability to display the movement of the user's mouse in thermography.
And Carnegie Mellon University Professor According to the paper, which was announced in 2001, the movement of the mouse and the line of sight has been mentioned that there is a correlation between the 84% to 88%.
In other words, the fact that to investigate the movement of the mouse, we can safely say that it synonymous to analyze the movement of the user's line of sight.
In mice graphics, where you have gathered the line of sight in the page it is displayed in red as (= mouse pointer is a part that is placed), to enable a more specific site diagnosis.
If you can receive smoothly the user important information, the user experience is improved.
Let's aim to review the page structure using the mouse graphics.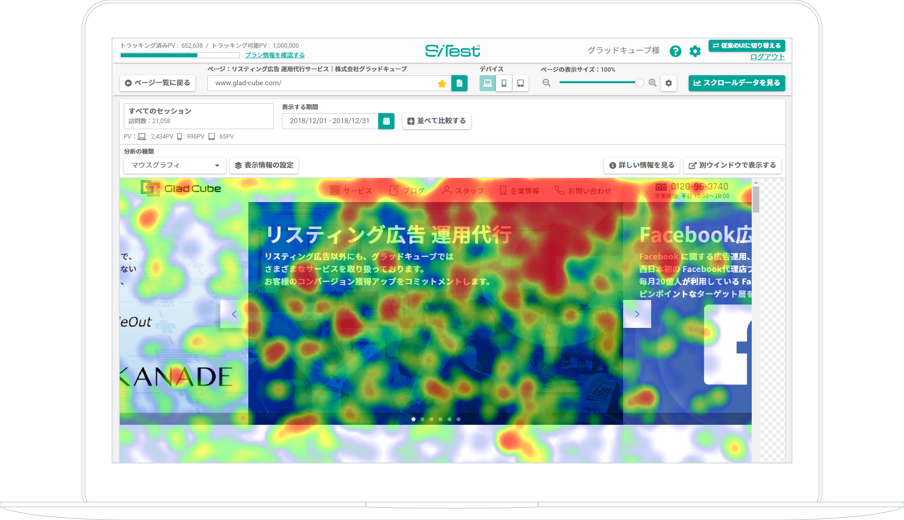 Method of utilizing mouse graphics heat map
Because mouse graphics that you can figure out what and where is often seen, will help in carrying out the improvement of the installation location of the layout changes and important content of the site.
By further performing a segment setting and period comparison, mouse graphics will deliver more effective.
For example, by comparing the bounce user and non-user, or it is possible to understand the difference of the movement, for the before and after renewal result is visualized (first in the world), we tackled to improve with confidence.