A/B test
Knowledge of HTML and CSS is not required at all
Tip of the site improved in the A/B test
In the A / B testing of SiTest, you can set the even A / B test in people with no web knowledge beginner easy.
Set of A / B testing, in order to be carried out on all management screen, it is not at all necessary to have a separate page.
Or enter the text of the pattern, so or can the replacement of elements in the drag-and-drop, Suguremono also take less than labor time.
A/B test after the run, so you can see the test results on the screen of the SiTest, based on the results by performing the following test more and more, let's aim of optimization.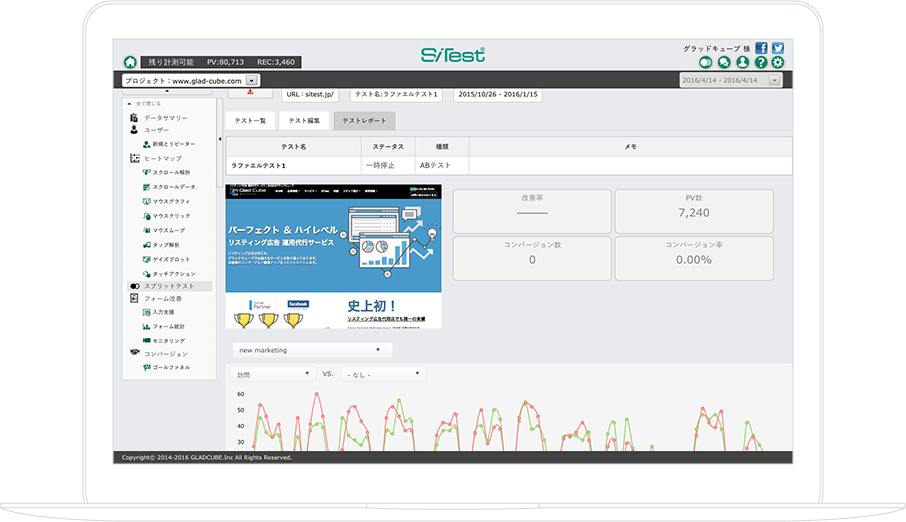 Problem that A/B test is resolved
What is important to proceed with A / B testing is a plan of how going to any test.
You can run anyone simple A / B test in SiTest, but it is to you to merely determine the contents of the test.
If you do know where to want to test, let's test from a large part of the impact the user's reactions vary greatly.
Or be specifically a place that affect the scroll rate of the under such catch copy and top image is the final effective or a purchase button and the wording of its vicinity immediately before the lead to contracts concluded.
No need to HTML file
In the 「Web Test」 and other A/B testing tool of Google Analytics, there was a need to provide only the HTML file number of the pattern you want to test.
A/B test can realize achievements as repeat, but it takes time and effort and expense to prepare the HTML every time was a bottleneck for the publishers.
Unnecessary preparation of the HTML file was the trouble in SiTest is all.
Because you can create an intuitive operation while the test pattern on the screen of the SiTest, can be improved with a sense of speed.
Unnecessary design coding
Another benefit you to take advantage of the A / B testing of SiTest is that it does not require expert knowledge of design and coding.
If you want to test to create a regular HTML file to is required design and coding of course test pattern, it must possess knowledge for that.
In addition, It also will take time as if to outsource the design and coding, also will be generated further cost.
Even simple anyone in SiTest you can create a test pattern.
So also you can also save costs time, it will also be much more likely to lead to a close rate increase by executing a repeat test.