Touch action analysis®
Smartphone analyze the user gesture
Visualizing the operation on the mobile terminal with a touch action analysis
Just tap analysis, it does not have actual location and scroll situation that user's attention is visible.
With the touch action analysis, swipe, flick, pinch, pinch out all possible confirmation.
When the look I want to point is or is swipe (scroll) at high speed, it does not have enough of your content Could interested.
The fact that is the pinch-out (increase) operation, the user has a fit to the desire to want to see in more detail.
Because it is a SiTest original features not found in other companies, optimization of the smartphone site should by all means use the touch action analysis.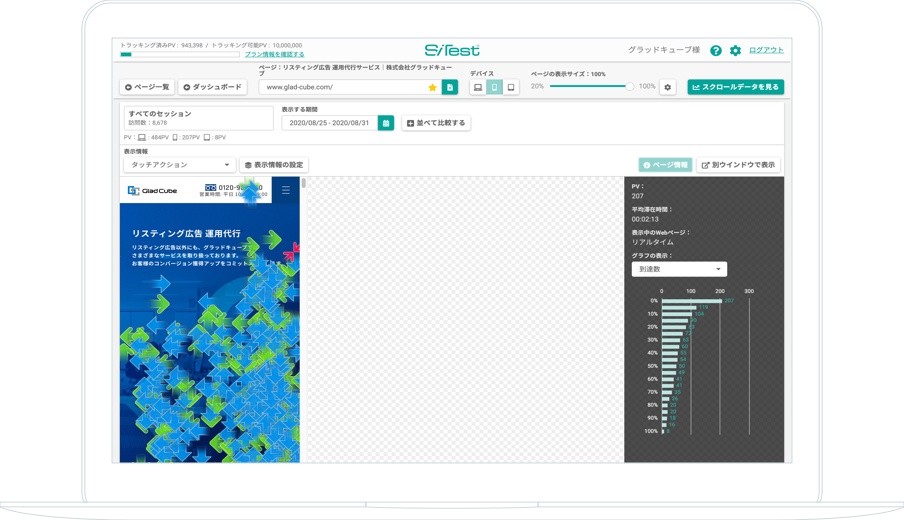 Use method of touch action analysis
Detailed movement of smartphone and tablet devices that could not be confirmed until now.
Pinch, flick, such as swipe, each of the movement is now available.
For example, the swipe is a behavior that is slowly scroll.Because the location is read interesting to the user, let's enrich the more content.
In addition, content or text may be difficult to see in pinch-in and pin-out areas because site visitors are zooming in and out of the display. It may be necessary to make design changes, such as increasing the size of the content or text, or making it larger when tapped.
Companies that are advertising delivered to for smartphone has been recommended to be checked by all means.