Tap analysis
Visualize the movement of the smartphone user
Corresponding to the multi-device at the tap analysis heat map
Ability for users to display the location you tap on your phone or tablet terminal tap analysis. Users of the movement of the PC and the smartphone is the need to be analyzed separately for different in many cases.
In order to keep up with the rapid market growth, not to stand in for the time being the corresponding only of the site in the smartphone and tablet devices the user's point of view, CVR will become lower.
In SiTest, it was equipped with a function that can analyze the 「tap action」 which is a feature of the smartphone and tablet terminal user.
Or the size of the button is appropriate, whether the movement is smooth, analyzes the movement of the user who does not know the only analysis of the PC, site optimization on all devices, let's aim to customer acquisition.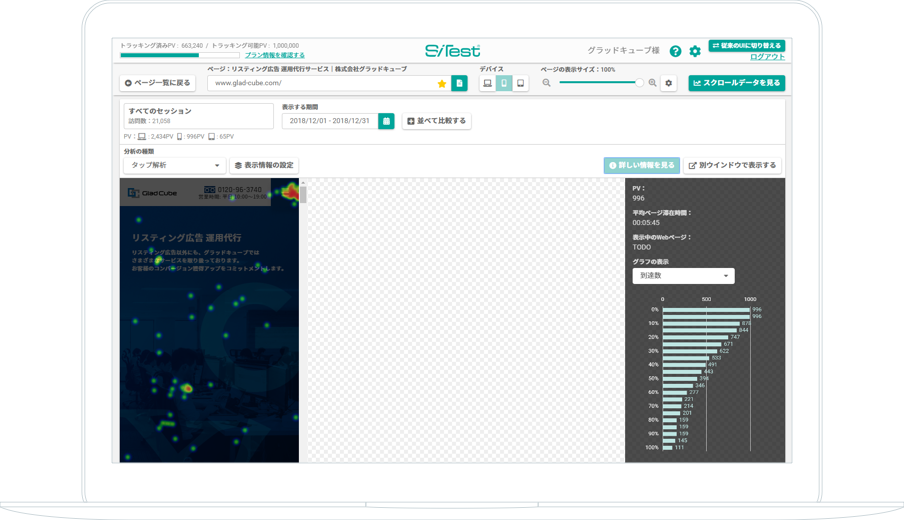 Use method of tap analysis heat map
Smartphone and tablet terminal will reduce the browser size as compared to the PC.
For this reason, in the level mobile site made to mimic the time being PC site, it has not been recognized such as a button, or by mistake in the vicinity too small will happen also, such as has been tapped.
First, a user of the movement in the tap analysis Let us know whether or not normal.
In addition, Google has been announced that it will recommend a responsive web design titled 「Building of optimized sites in the smartphone」, do not be responsive web design just because peace of mind in June 2012.
First of all smart phone, tablet terminal user in order to perform an action that is different from the PC user 「tap」, will lead to be optimized to each raise the target arrival rate.