Multivariate test function
Knowledge of HTML and CSS is not required at all
For improvement in multivariate test tips
A/B test is a short cut to the goal of site optimization undoubtedly, is a challenge that takes a long time really.
In particular, if a site has attracted the user's access certain level or higher, also will rise in proportion to sales more you fast optimization.
Another test function in SiTest, is equipped with a multivariate test.
In multivariate test, since it is possible to perform a test of multiple elements at once, you can overwhelmingly reduce the time to find the best sites.
By going to run the test at short intervals, it can be improved more quickly CVR, even faster sales up as a result.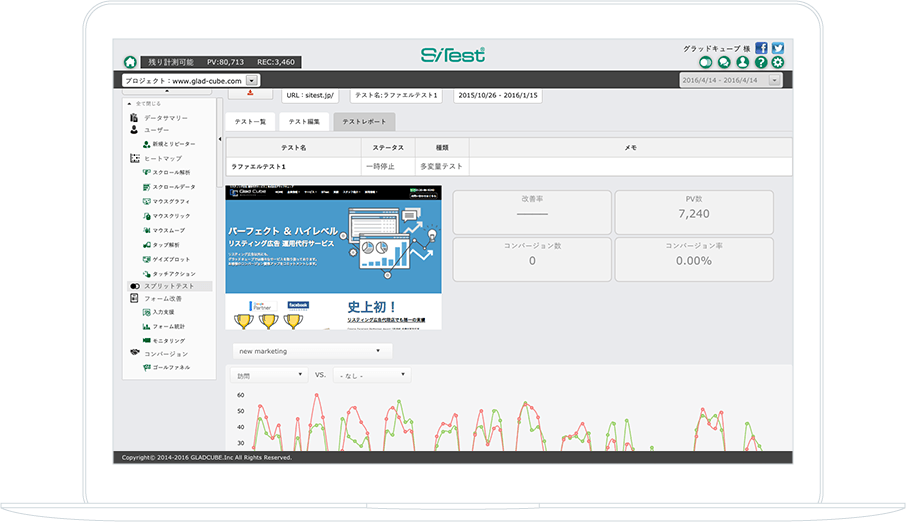 Problems multivariate test is resolved
Even in a multivariate test, you need to decide the number of patterns to be tested in advance.
Familiarize yourself with PV number of pages you want to test, what pattern until the test can be either (or each pattern are collected a minimum of PV) let's think.
It is basically the same as the A/B test for the test content.
Continue to test from the elements that give the greatest impact on the CVR, please aim to optimization.
No need to HTML file
In the 「Web Test」 and other A/B testing tool of Google Analytics, there was a need to provide only the HTML file number of the pattern you want to test.
A/B test can realize achievements as repeat, but it takes time and effort and expense to prepare the HTML every time was a bottleneck for the publishers.
Unnecessary preparation of the HTML file was the trouble in SiTest is all.
Because you can create an intuitive operation while the test pattern on the screen of the SiTest, can be improved with a sense of speed.
Unnecessary design coding
Another benefit you to take advantage of the A/B testing of SiTest is that it does not require expert knowledge of design and coding.
If you want to test to create a regular HTML file to is required design and coding of course test pattern, it must possess knowledge for that.
In addition, It also will take time as if to outsource the design and coding, also will be generated further cost.
Even simple anyone in SiTest you can create a test pattern.
So also you can also save costs time, it will also be much more likely to lead to a close rate increase by executing a repeat test.