AI (artificial intelligence) automatic test
I discovered a problem in the automatic improvement
Period A/B test is carried out in the AI ​​(artificial intelligence)
The portion to be tested, AI (artificial intelligence) takes care of automatically determining, as if it were an excellent consultant.
A/B testing to maximize achieve number of the selected goal done the system is automatic.
So far and web marketers planning, set, is an innovative mechanism by which it is possible to perform A/B test which has been performed in a completely automatic.
To improve the web page automatically performs a proposal of A/B tests on the location of AI that have accumulated the web site optimization know-how of Glad cube that there is a lot of experience as an Internet advertising agency is likely to increase the conversion rate we will.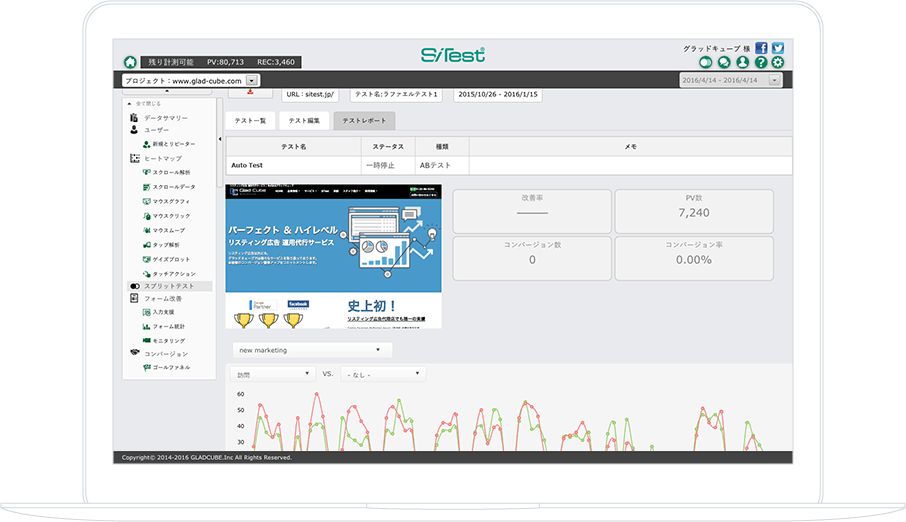 Problems that AI automatic test is resolved
Such as there is no budget enough to ask the A / B can not detailed there is no knowledge and hypothesis out about the test time is not, troublesome Consulting, people, goods and money is there is a limit by the company.
AI automatically analyzes, suggestions, test, improved by performing, you can concentrate on more human is the original creative work towards the test.
By AI is us to the A / B testing, conversion optimization (CRO) it will be realized.