Mouse move
Recording and reproducing the movement of the user's mouse
Visualizing the user's movement with the mouse move
To record a user's movement on the page, the ability to play the mouse move.
Whether the user is viewing how the above site. This information will be think servants who, if publishers.
However, research services to track the actual operation of the user are those expensive take hundreds of thousands, and it takes time to survey the measurement was limited as a few dozen from just a few people.
In addition, since it is possible to confirm the residents of the increase or decrease of each page in the graph, the mouse move of SiTest, you can analyze a user's movement who visited without spending also expensive and time by recording the movement of the mouse.
The movement of the movement and the line of sight of the mouse is located in the high correlation. Mouse it is confirmed whether the unexpected movement, if you can discover the point at which the user has stumbled, and reassemble the changes and conductor of the page layout can be improved usability, the CVR.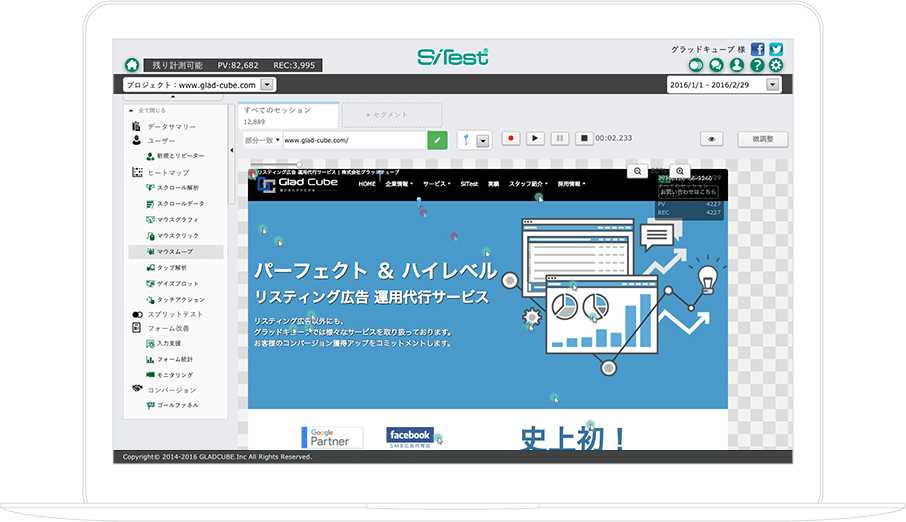 Method of utilizing mouse move
Mouse move can analyze the movement of the mouse, which focused on a particular user by applying a segment.
For example, there is noticeable feature on the movement of bounce user, reducing the bounce rate by improving the points, it is possible to enlarge the potential to funnel.
And more mouse move comes with the ability to select two of the separate playback and simultaneous playback.
Please use the simultaneous playback as a short time in the high-traffic pages. Also if you want to see separately It is also a button allows one to switch.